Members and Friends of the Buckeye Brook Coalition,
SAVE THE DATE!  It.s meeting time!  The Coalition invites the public to the following:
     What:      Buckeye Brook Coalition Members Meeting
     When:   Wednesday, December 15, 2004 at 7:30 p.m.
     Where:  The Knights of Columbus Hall, 475 Sandy Lane, Warwick
                 (at the intersection of Sandy Lane and Warwick Ave.)
      Agenda: See below
December is a busy month, but please take a few moments to learn about what has been happening and to support the brook!  
See you there,
Bill Aldrich
Treasurer, Buckeye Brook Coalition
Buckeye Brook Coalition Members Meeting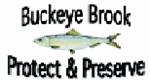 Agenda
I. Welcome . (Christopher . 5 minutes)
II. Introductions
a. Ex Officers
b. New BOD Members
III. Financial Report (Bill . 5 minutes)
IV. Vote on Executive Officers (15 minutes)
a. Barbara Charron - Secretary
b. Steve Insana - VP
V. News and Events (45 minutes)
a. Watershed Council status (Steve)
b. Webpage development (Carol)
c. Grant Status (Carol/Steve)
d. Airport Discharge Permit (Christopher)
e. Airport Expansion (Christopher)
f. American Heritage Status (Steve)
g. Road Race (Steve)
h. Chicken and Macaroni Dinner results (Bill/Steve)
VI. Miscellaneous Issues (15-30 minutes)