<![if !vml]>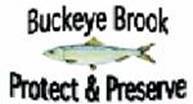 <![endif]>
 SAVE THE DATE!  It's meeting time!  The public is invited to the following:
     What:     Buckeye Brook Coalition Annual Meeting
     When:   Tuesday, March 11, 2008 (7:00 to 9:00 p.m.)
     Where:  Warwick Public Library (Room 100, the Small Meeting Room)
                  600 Sandy Lane, Warwick RI
AGENDA:
I.        Welcome  (est. 2 minutes)
II.       Brief Rundown on Reports (Financial, Membership, etc.)  (est. 5 minutes)           
           Note:  Membership renewals ($15 individual and $30 family) are due by April 1.  Pay at the meeting, mail to BBC (PO Box 9025, Warwick RI  02889) or renew safely and securely online at www.buckeyebrook.org.  Where necessary, reminders will be sent in April.    
III.     Election of Officers & Board Members  (est. 5 minutes)
           A. For President, Steve Insana (he is currently the President)
           B. For Secretary, Barbara Charron (she is currently the Secretary)
           C.  For Board Member, Lori Insana    
IV.     Volunteer Opportunities  (est. 10 minutes) 
            A.   11th Annual Earth Day, Saturday, April 19th (Rain Date:  Sunday, April 20th)
            B.   6th annual "Direct Fish Count"  will be conducted during April and the
first half of May.  
            C.   Water Quality Volunteers 
V.     Bike Path across Buckeye Brook  (est. 2 minutes)         
VI.    TF Green Airport Issues (Q & A)   (est. 5 minutes)      
VII.   Moratorium on Taking River Herring in RI Rivers (est. 2 minutes) 
VIII.  Any Miscellaneous Issues (tentative events, etc.) (est. 10 minutes)
IX.    Program:  A Project to Restore Migratory Fish to the Lower Pawtuxet River  (est. 45 min)
X.     End of formal meeting; Sign up for Volunteer Opportunities (est. 30 min).